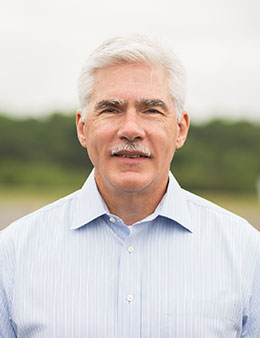 As the director of the UAS Test Site, Matt Scassero leads the university's efforts to be a premier force in advancing UAS safely, efficiently, and effectively while delivering products and programs in support of workforce development and higher education goals.
Prior to his work with UAS, Scassero was the chief contracts officer for Melwood, a non-profit dedicated to empowering people with differing abilities to enrich their own lives through rehabilitative services and employment opportunities. Scassero completed a 27-year career in the U.S. Navy, retiring at the rank of captain as the vice commander for the Naval Air Warfare Center Aircraft Division, the Navy's principal research, development, test, evaluation, engineering, and fleet support activity for naval aircraft and systems. He is certified by the federal government in program management, test and evaluation, software acquisition, safety program management, and electronic warfare operations.
Scassero earned a B.S. in physics (oceanography) from the United States Naval Academy in 1982 and is a Leadership Maryland 2007 graduate. In 2017, he completed a Masters of Public Administration from the University of Baltimore.
He is blessed with his family to live in St. Mary's County, Maryland, enjoying the rural lifestyle and outdoor pursuits.
Email: mscasser@umd.edu
Phone: 301-862-7824 ext. 801
Top