Map to Recovery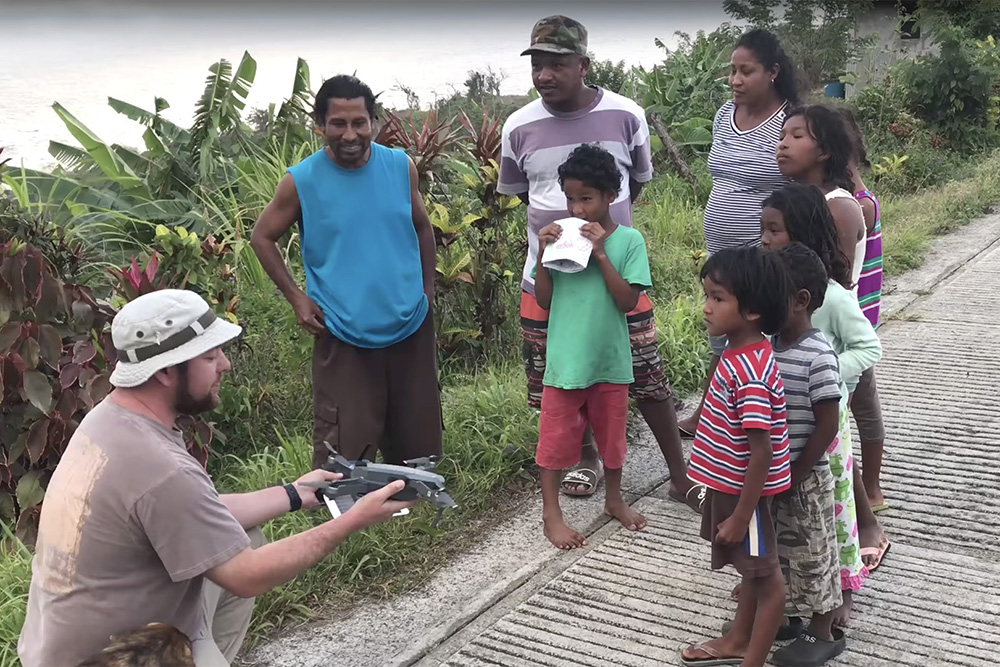 By Chris Carroll
A University of Maryland (UMD) drone pilot is heading to the Bahamas to provide an eye in the sky to help the island nation recover after category 5 Hurricane Dorian left at least 60 people dead and hundreds missing, causing an estimated $7 billion damage.
Josh Gaus, a UMD graduate in mechanical engineering who now works for the UMD UAS Test Site as a test engineer, will collect high-resolution imagery to help create a map documenting damage on Grand Bahama Island, where Dorian stalled for an entire day, shredding homes and businesses.
Working with GlobalMedic, a Canadian disaster relief organization that responds to hurricanes and other calamities worldwide, Gaus will fly a multirotor drone in a zigzag pattern over areas identified by the Bahamian government. Its camera will provide sharp views of buildings, roads, utilities and other assets.
Such a map will not only be more current than what's available through Google Earth or other commercially available satellite imagery, it will be far more detailed.
"In general, it's going to be able provide 1- to 2-centimeter-per-pixel resolution, which means just about sharp enough to read a license plate," Gaus said.
The flights are coordinated by GlobalMedic, which is working its 214th global assistance mission in the Bahamas, said the Toronto-based nonprofit's founder and executive director, Rahul Singh, a paramedic. The nonprofit partnered with the UAS Test Site on similar imaging work after a Hurricane Maria struck Dominica last year.
In the Bahamas, besides helping with rescues and handing out supplies to survivors, the organization is using the drone mapping to advocate for financial support to rebuild, he said.
"If you're a homeowner who wants to rebuild and repair after a disaster, you need to go ask someone for money, and they're going to say, "Well, prove what the damage is,'" Singh said. "Likewise if you're a country that needs to rebuild, and going to the Caribbean Development Bank or others, they're going to ask you to quantify the magnitude of the problem."
Singh pointed to other innovative medical and humanitarian uses for drones that UAS Test Site personnel are developing. Those include testing the delivery of medical supplies and blood by unmanned aircraft, as a well as a historic first when in April, working with physicians from the University of Maryland Medical Center, a UMD drone transported a viable kidney across Baltimore for transplant into a 43-year-old woman suffering from kidney disease.
"This is all about serving humanity, and you guys are doing some important work," Singh said.
Gaus' trip could also result in some useful research results for drone operations, ranging from the logistics of scheduling flights to better insight into how to integrate unmanned aircraft into the skies over disaster sites, said UAS Test Site Director Matt Scassero.
"But really the main reason we're going there is to provide a photographic service to help the country get back on its feet," he said. "The research is secondary to the humanitarian mission."
Founded in 2014 with a mission of advancing the safe, responsible application of unmanned aircraft systems in public and private industries, the UMD UAS Test Site is part of the A. James Clark School of Engineering. The Test Site is based at St. Mary's County Regional Airport in southern Maryland.
This article originally appeared in Maryland Today.
Published October 9, 2019