UMD UROC Drone Ops–Down Under!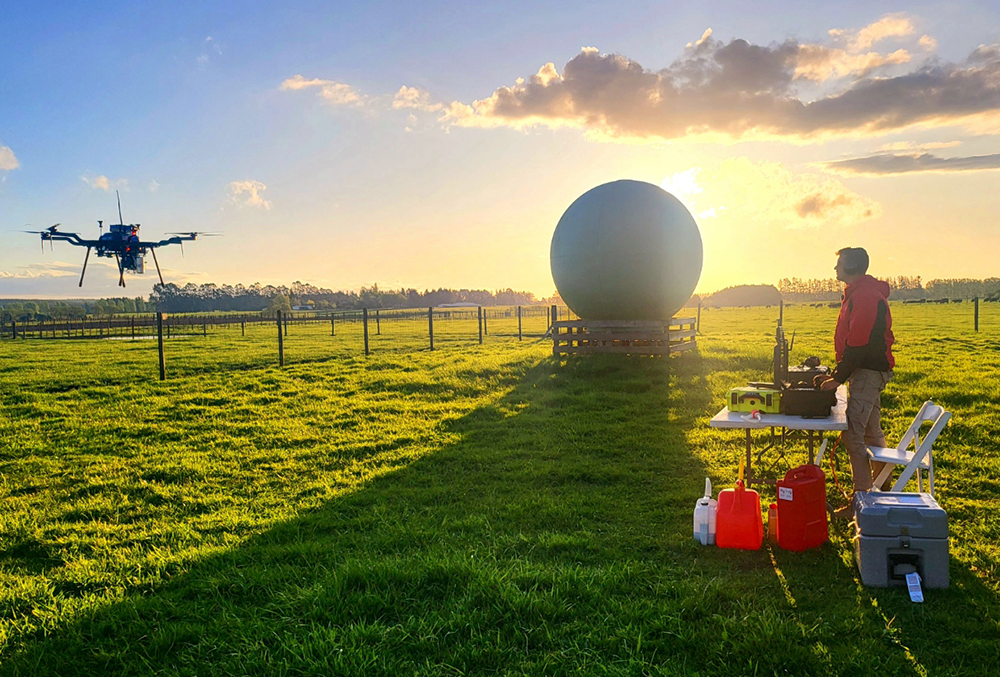 A drone-based approach to testing and calibrating the Medium Earth Orbit Local User Terminals (MEOLUTs) utilized by the international search and rescue system, Cospas-Sarsat, has been gaining traction, with University of Maryland (UMD) UAS Research and Operations Center (UROC) personnel implementing the approach in Florida, Hawaii, and most recently Australia and New Zealand.
Chief UAS pilot Darren Robey and UAS Test Engineer Grant Williams spent more than a month Down Under, assisting maritime agencies in the two countries and working with Techno Services (TSi), the contractor that manages the commissioning process in several countries around the globe.
In the Cospas-Sarsat system, satellites in medium earth orbit receive signals from emergency beacons placed on aircraft and boats, or carried by hikers. The signals are then beamed down to the MEOLUTs, which interpret the data so that it can be used by first responders working to aid people in distress.
The terminals, however, have to be validated and calibrated in order to ensure accuracy. The UROC team helps accomplish this by placing a beacon on a drone which can then be flown in various patterns, simulating the actual scenarios in which a distress beacon signal might be received.
"We used the same process that we've implemented in other locations," Robey said. "We equipped an uncrewed aircraft with a search and rescue beacon and flew it in specific patterns. We then shared the data with the authorities as well as TSi."
There was a crucial difference, however. For this test, Robey and Williams brought along a newly-acquired Carrier H6 Hybrid aircraft with significantly greater capabilities than the drone used in previous missions.
"Historically, we've used our M600 drone as our workhorse," Robey said. "But the H6 is a bigger, better aircraft that can achieve longer flight times and can be fitted with a supplementary gas-powered generator. Instead of having to stop every 15 minutes or so in order to swap out batteries, we could fly for hours at a stretch. In fact, we went from about 5 ½ hours of total flight time per day to 8 hours a day."
The endurance gains translate into better data, Robey said."Since the testing process revolves around a moving beacon, the more we can move, and the more configurations we can fly, the more robust data we're going to obtain."
As was the case in Florida and Hawaii, the tests in Australia and New Zealand provided an opportunity to demonstrate the distinct advantages of drone-based calibration. While calibration can also be accomplished using ground-based systems or conventional, crewed aircraft, drones offer significant advantages in terms of both cost and accuracy.
"The global Sarsat community wants to find ways to do this at scale," Robey said. "Drones are not only less expensive, but they offer more operational flexibility. We can fly North to South for a period of time, then East to West. We can fly at different altitudes, and with different ground planes."
"It's a dynamic approach that reflects the variety of environments in which search-and-rescue beacons are used," he said.
Published February 14, 2023