UROC is Implementing a Safety Management System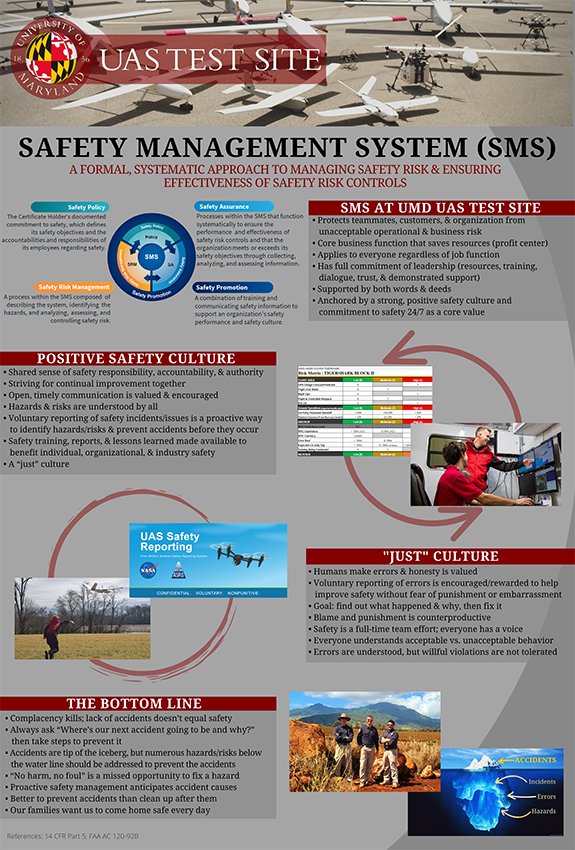 Safety is a critical part of any team, but it's an especially important part of organizations that work in aviation. A Safety Management System (SMS) is a comprehensive approach to managing safety risk and ensuring the effectiveness of safety risk controls, and the UMD UAS Research and Operations Center (UROC) recently took a major step forward in implementing their own SMS. UROC is devoted to proactively managing risk and fostering an inclusive safety culture while conducting research on and with uncrewed aircraft systems (UAS).
"Having an SMS isn't the norm in uncrewed organizations yet," says Jim Alexander, the Project Manager and Chief of Safety at the UMD UAS Research and Operations Center. "Right now, our SMS is totally voluntary, and hopefully we're on the leading edge of that implementation."
Aviation can be an unforgiving environment. It's a field where people work with different and new technologies, and risk will always be a part of it. Any kind of accident or incident in aviation will directly impact human lives as well as the industry itself. This makes safety an incredibly important aspect of aviation. Because of this, aircraft safety and safety protocols have been implemented for many years.
While the Federal Aviation Administration (FAA) mandates SMS for commercial airlines, there aren't as many required safety protocols in place for organizations that work with uncrewed aircraft. In recent decades, with the innovations in battery technology, avionics, and propulsion, uncrewed aircraft have become more practical, popular, and accessible. Today, there are a lot of new organizations and individuals interested in the capabilities of UAS, many without a prior background in aviation.
"It's a fairly new industry, and there are a lot of new players in it. Safety plays a critical role in public perception of the industry, amongst other things," said Alexander.
An advantageous aspect of expanded drone usage is the increased safety of human workers. Drones are able to take on the dull, dirty, or dangerous jobs that people have had to complete in the past, and they can do them quicker and more efficiently, all while protecting human lives. For example, UROC recently worked with the Maryland Department of Transportation to conduct road culvert inspections. Until now, this was a job that people had to do, but organizations like UROC can send a drone in to do that work instead. UAS are a great tool to mitigate risk, and organizations utilizing the benefits of these uncrewed aircraft must also have a positive safety culture in place to be successful. UROC Director John Slaughter emphasizes the need to put safety first.
"SMS isn't just about the good of the company or organization, it's about the good of the individuals. In a good organization, everybody cares about each other."
"All successful aviation organizations put safety first and foremost, and UROC is an outstanding example of such an organization. The UAS industry has a tendency to focus on technology first and aviation second – we won't make that mistake, and we will always make sure that risk management is embedded in everything we do," said Slaughter.
Some businesses think that investing in safety is costly, but a real benefit of having an SMS is that it actually contributes to the overall success of an organization and more than pays for itself. People want to collaborate with and work for organizations that have a great safety record and value safety culture. The safety culture at UROC shows that they are an organization that cares about their team members and values their input.
"SMS isn't just about the good of the company or organization, it's about the good of the individuals. In a good organization, everybody cares about each other," said Alexander.
To understand the importance of this culture, UROC conducted a detailed SMS training this past December. Each member of the team was required to attend, even those who don't work with drones at all. SMSs aren't only useful for the operational members of the team, they're for everyone. The goal of an SMS is to protect from all unacceptable risk, not just unacceptable operational risk. Everyone on the UROC team, including temporary interns and administrative employees, are on the same page and are committed to a positive safety culture. This past spring, the team even collaborated to define their safety values and develop a poster to hang on their lobby wall as a reminder of their commitment to those values.
"Communication is key for an SMS. Everybody has a voice, and everybody has an input," says Alexander. "Now anybody who comes in the door, employees, customers, visitors, they can see our safety culture promotion statement."
Some work remains to fully implement the SMS, but much of the safety policy and risk management procedures are already in place. Maintaining an effective SMS is a continuous job, and UROC is up for it. Management, operational team members, and administrative team members all recognize the importance of managing risk and promoting workplace safety. In setting up an SMS, UROC is improving their workplace as well as setting an example for other organizations.
Published September 20, 2022