Intern Spotlight: Kristina Babinski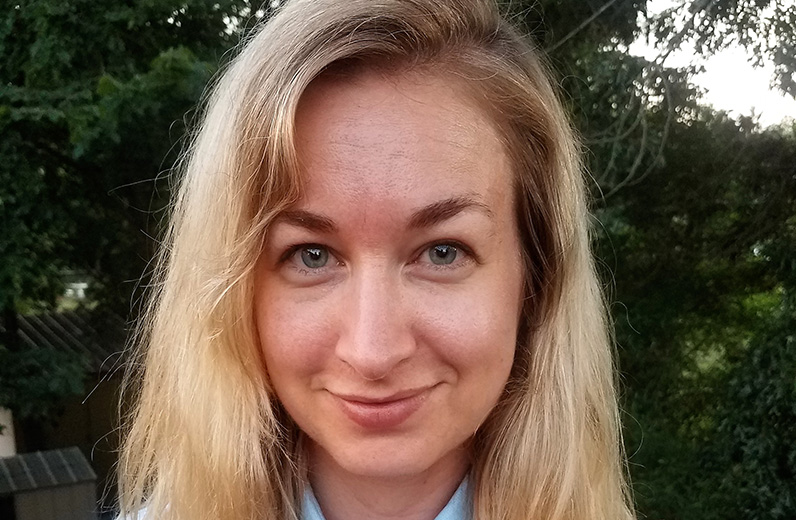 Kristina Babinski is not your typical engineering student. She earned her first degree from Le Cordon Bleu and until 2014 worked in the culinary industry. Now an electrical engineering major at the College of Southern Maryland, it was her interest in programming that ultimately led her to the UAS Test Site.
What first sparked your interest in UAS technology?
I stumbled into UAS technology. I don't have any sort of aviation background, and I had never flown anything until my first solo UAS flight earlier this summer. But I enjoy working with microcontrollers and programming, so it was easy to find my fit in UAS technology.
What is the goal of your internship project?
The goal of my internship project is to write a program that analyzes thermal images to recognize a potential point of interest—like a large mammal or vehicle. If a point of interest is detected, the program places a marker on a map. The program is designed to be used in search and rescue missions to automate data filtering.
What have you accomplished so far, and what to you hope to accomplish before the end of the summer?
The first draft, so to speak, of the program is complete—it will recognize a point of interest in a single photo and plot that latitude and longitude on a map. I have begun working on the second draft, where relevant locations are plotted based on a review of batches of images.
What have you enjoyed most about working at the UAS Test Site?
Something is always going on. If I find myself at a particularly difficult part of my project and I need to step away, I can talk to other interns and learn about their projects, which is entirely different from mine.
What's been the biggest challenge?
The most difficult element of the internship has been learning about aviation. I knew very little about UAS before starting, and it has been hard to learn all the terminology. I also wasn't very familiar with UAS technology before starting, so understanding the capabilities, especially in relation to my project, has been a challenge.
What do you know about UAS technology, testing, or project planning now that you didn't before your internship?
Before starting at the test site, I wasn't aware of the safety regulations that surround flying UAS. After studying the Part 107 regulations for the past few weeks, I have found that most are common sense safety standards—the other are aviation-related and very interesting to learn about in their own right.
What advice do you have for students considering an internship at the UAS Test Site next summer?
You don't need to be an expert in UAS to really enjoy the internship and get a lot out of it.
Published July 17, 2017