Intern Spotlight: Nick Freas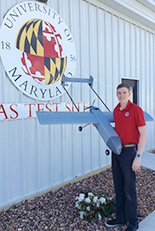 Nick Freas is no stranger to unmanned flight. The Patuxent High School senior spent most of his early years building and flying remote-controlled planes. So when drones entered the market, he knew he needed to learn more about the burgeoning technology.
That's what brought him to the UAS Test Site's door in October 2016 inquiring about internship opportunities. Since then, he's been involved in everything from expedition planning to executing facility upgrades.
His pet project, however, is a mid-sized, gray drone with a rounded off nose. Before Freas, this system was nothing more than a box of parts. Today it's ready for its first test flight.
"It was pretty difficult," admitted Freas. "There were no directions to follow or anything like that. I had to work through which parts were needed to make it fly."
"The next step will be putting the brains in the system," Freas added. "We ultimately plan to turn this system into a test bench for future technologies."
Freas' internship will wrap up in August when he moves to College Park to attend the University of Maryland, where he hopes to later transfer into the Department of Aerospace Engineering before eventually joining the Navy.
"Being here has definitely been an inspiration for me," he said. "I've been building systems since I was very young, but I still learned things I had never known. The new technologies I've seen here have inspired me to continue my work. It's not just a hobby anymore. It's something I want to pursue as a career."
Published May 8, 2017