UMD Student Team Advances in UAS Competition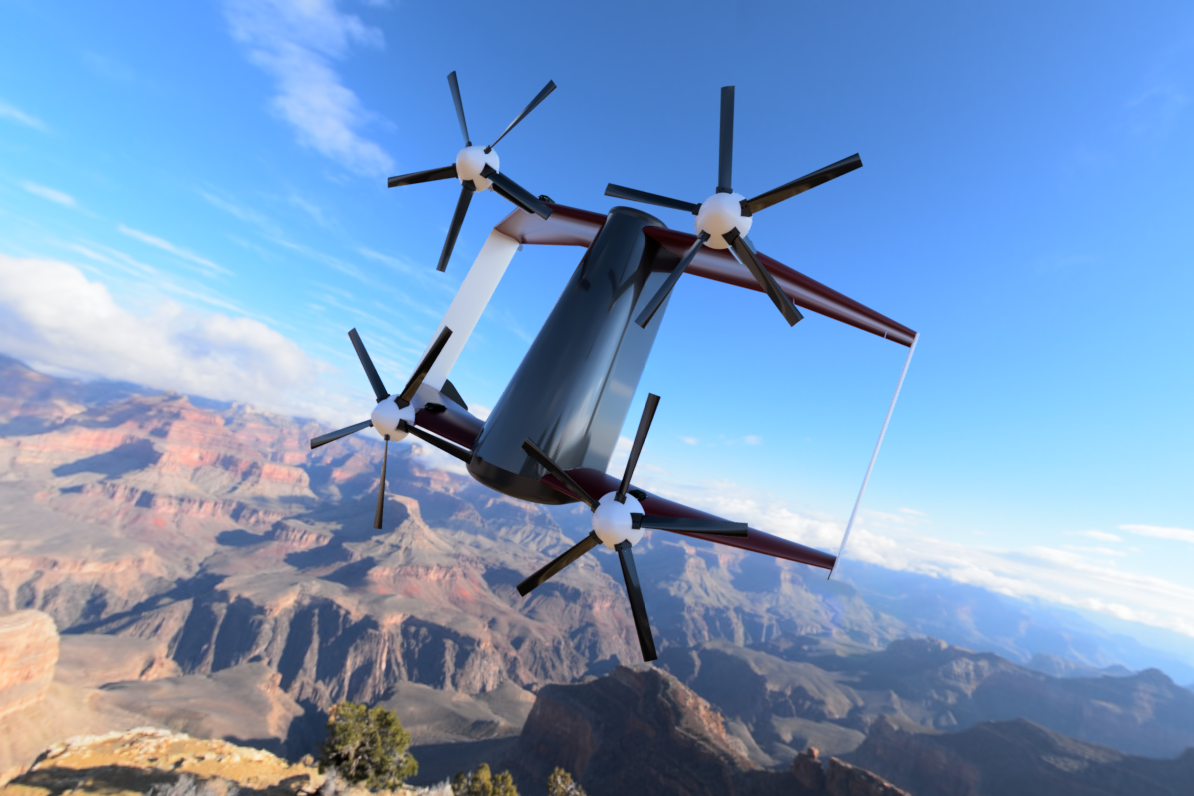 Stage 1 results in the NIST-sponsored First Responder UAS Endurance Challenge have been announced—and a team of UMD aerospace engineering students is one of ten winners. The contest challenges participants to design powerful, durable drones that can assist first responders and support critical, life-saving missions.
The Alfred Gessow Rotorcraft Center (AGRC) team made the cut with its high-endurance quadrotor biplane tail-sitter (QBIT), designed to provided extended flight time. The vehicle designed by the team has a gross takeoff weight of 35 lbs, can fly for up to two hours, and costs considerably less than existing options on the market.
"We elected to design a vehicle capable of seamless transition to forward flight to maximize the cruise efficiency and hence vehicle endurance," said team leader Nicholas Rehm, a master's student in the aerospace engineering program. "Many vertical takeoff and landing (VTOL) transition vehicle solutions today rely on dedicated lifting fans to achieve hover, which are then dead weight in forward flight. We believe that to achieve maximum endurance, all components of the vehicle must contribute to the flight of the vehicle in all flight regimes."
"A QBiT style aircraft does not require auxiliary lifting fans or heavy mechanisms to achieve VTOL, and the rotors can be optimized for both hover and the desired forward flight conditions," he said.
The team's design is all-electric, Rehm noted, utilizing commercially available LiPo batteries. Instead of seeking to boost the amount of energy available for a flight—by using costlier power sources such as gasoline generators or hydrogen fuel cells—Rehm and his teammates opted to focus instead on using battery power as efficiently as possible. Their design also incorporates advanced autonomous control features that contribute further to its efficiency and performance.
The UAS Endurance Challenge is organized by Capital Consulting Corporation and Arizona State University Research Enterprise (ASURE) under contract with the National Institute of Standards and Technology (NIST). In addition to Rehn, the UMD team members include Animesh Shastry (PhD student, aerospace), Abhishek Shastry (PhD student, aerospace), Brandyn Phillips (PhD student, aerospace) and Peter Ryseck (senior, aerospace). Rehm, Philips, Ryseck, and Abishek Shastry conduct rotorcraft research at the AGRC, under the leadership of Inderjit Chopra. Animesh Shastry is part of a joint program between the AGRC and the Maryland Robotics Center (MRC), headed by Derek Paley.
"All of us specialize in a combination of unmanned aerial vehicles, rotorcraft, and dynamics and control. This was an exciting opportunity to collaborate on a cohesive project," Rehm said.
Dr. Paley, the MRC director, congratulated the team on its achievement.
"The University of Maryland has a strong tradition of competing in—and winning—student competitions," he said. "It's great to see the Rotorcraft and Robotics Center students keeping up this tradition with the UAS Endurance Challenge!"
The AGRC is "deeply committed to participating in this competition," said its director, Dr. Chopra. "We will put a diligent effort towards winning it," he said.
Published June 12, 2020