University of Maryland, Navy Control Robot From 6,000 Feet Above Ground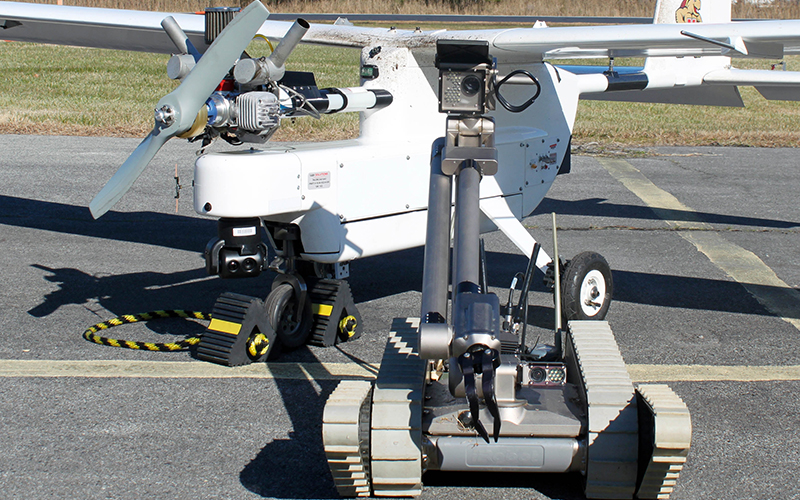 Naval robotics engineers remotely operated a bomb disposal robot November 28 using radio signals relayed from a University of Maryland unmanned aircraft vehicle soaring more than a mile overhead. The operation is the highest altitude test conducted by the Unmanned Aircraft System (UAS) Test Site since launching in 2015.
Military personnel rely on the Man Transportable Robotic System—better known as Packbot—to identify and clear explosive devices encountered in the field. With traditional radio technology, operators must stay within hundreds of feet of the vehicle, where they are vulnerable to harm from surrounding explosives.
The UAS Test Site, along with partners from the Naval Air Warfare Center Aircraft Division (NAWCAD) and Naval Surface Warfare Center (NSWC) Indian Head Explosive Ordnance Disposal Technology Division (IHEODTD), are working on a configuration that could extend the safety buffer to tens of miles.
"We're constantly pushing technology to look for new ways to increase the standoff distance between bomb disposal technicians and the dangerous devices they work with," said Aaron O'Toole, a robotics engineer at NSWC IHEODTD. "With this new capability, we're not only radically increasing standoff distance, we're envisioning a future where our people don't need to be located at the scene at all. This is especially desirable since transportation to the scene can sometimes be just as dangerous as dealing with the explosive device itself."
Successful connection to the Packbot was made during a two-day operation ran out of Crisfield Municipal Airport and with permission to fly in Naval Air Station Patuxent River restricted airspace. Throughout the five test flights, pilot Ryan Henderson stepped the fixed-wing Talon 240G up in altitude and modified flight paths while Jacob Moschler adjusted antenna and reconfigured bandwidths in search of the strongest connection to the robot located roughly half a mile away.
"The communication link between the robot and the operator is particularly demanding because we have to transmit high bandwidth video that needs to be free of lag or latency, or else it is impossible to precisely control the robot," O'Toole explained.
"By testing different flight patterns over the multiple transmission and reception antennas on the ground, we were able to hone in on the ones that allow us to maintain the right rate of transfer and delay to control the robot," added Moschler, a project engineer with the UAS Test Site.
Another phase of testing using UMD's larger, more complex TigerShark vehicle is slated for late spring 2018.
"Testing is a crawl-walk-run process," said Tony Pucciarella, director of operations for the UAS Test Site. "Right now, we're walking. We need to really understand the system challenges and stressors before we are ready to test in a more complex vehicle and under more real-world conditions."
Moschler, Henderson, and others will spend the intervening months troubleshooting the radio signal relay and determining how to best integrate the needed antennas and other technology into the TigerShark.
"Both the successful testing at Crisfield as well as the planned work with the TigerSharks are part of an increasing collaboration between the government, industry, and academia," said Stephen Kracinovich, director of NAWCAD Autonomy Strategy. "We hope to use the collaboration to provide capabilities to the warfighter faster and cheaper by leveraging commercial activities. Similarly, this enhances transfer of appropriate technologies from the military to commercial, state, and local governments, thereby improving our local and national economies."
Images and b-roll of the tests are available at go.umd.edu/communicationsrelay.
Published December 19, 2017