Ingenuity Helicopter Team Wins Howard Hughes Award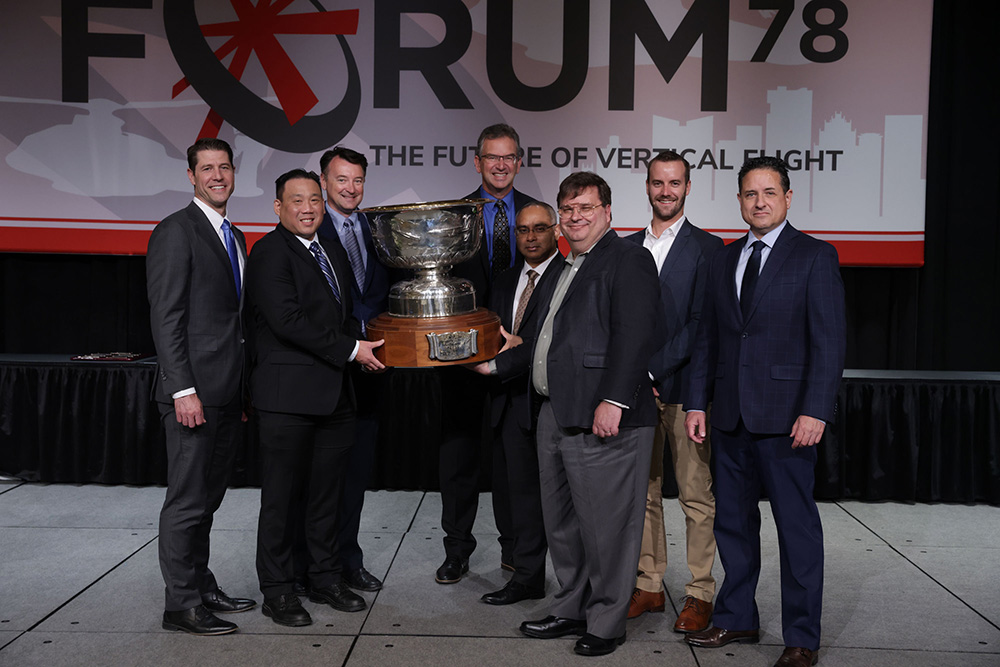 The University of Maryland (UMD) and other organizations involved in development of Ingenuity, the Mars helicopter, are this year's recipients of the Vertical Flight Society's (VFS) Howard Hughes award, given in recognition of an outstanding improvement in fundamental vertical flight technology.
The award was presented formally at the 78th annual Forum and Technology Display on May 12 in Fort Worth, Texas.
Ingenuity completed the first powered flight on another planet just over a year ago, on April 19, 2021. Since that initial flight, which lasted 39.1 seconds, the 4 lb (1.8 kg) helicopter, originally meant to fly 5 sorties, has continued its mission, with more than 28 successful flights to date. AeroVironment, NASA's Jet Propulsion Laboratory, NASA's Ames and Langley Research Centers, Qualcomm, SolAero, and the University of Maryland received recognition for their contributions to the history-making breakthrough.
"This is an emerging field of the future. It has blurred the distinction between space and aeronautics," said UMD associate professor Anubhav Datta, who as a graduate student in 2000 led a UMD design competition team that established the feasibility of Martian rotary-wing flight and whose blueprint for a Mars rotorcraft paved the way for Ingenuity (see AIAA J. of Aircraft, v 4, n 3, 2003).
The students devised innovative solutions for the distinct problems posed by Martian flight, which include ultra-low atmospheric density, low speed of sound, wildly fluctuating temperatures, and low oxygen levels. Ingenuity, in turn, incorporated key features of the earlier UMD design—most notably, two-bladed coaxial counter-rotating rotors mounted on a square fuselage.
Datta, who worked for the U.S. Army Aviation Development Directorate at NASA-Ames after earning his doctorate, contributed his expertise as plans to build an actual Mars rotorcraft gained traction. With the support of his mentor and supervisor, Dr. Roger Strawn, and assisted by UMD doctoral student William Staruk and Elizabeth Ward, he helped model and calculate the dynamic loads and stability of the ultra-thin, yet ultra-stiff rotor system needed to keep the unusual craft aloft safely on Mars.
Today, as a UMD aerospace engineering faculty member, he leads a new generation of students as they work to improve Mars helicopter technology to enable aircraft larger and more capable than Ingenuity to carry out compelling science missions (see NASA/TM-2020-220485). Equipment and facilities at UMD's newly-launched IDEA Factory will support this ongoing research.
Contributing to the effort are recent and current UMD graduate students, including Daniel Escobar (now at the U.S. Army Aviation Development Directorate), Cheng Chi, Ravi Lumba, Eric Greenbaum, and Victoria Britcher, as well as highly accomplished undergraduates, such as aerospace honors students Logan Swaisgood (class of 2022) and Catherine Catrambone (class of 2023).
"Because of our long track record in creating and nurturing this field, we are now well-poised to be the leader," Datta said. "There are significant barriers to be broken before rotorcraft becomes ubiquitous as a compelling science platform on Mars or act as astronaut agents in the future, and we will be leveraging the expertise we have built over the years—as well as the newly-available facilities at UMD—to overcome these barriers."
Published May 24, 2022